Didn't blog recently...hahha...came to create post window several times but was just too lazy to actually type in the white box! :p well nothing much these few days...let me see if I can recall...let me rewind a little...(rewinding sound..) ok here goes:
Thursday
It's sy's off day so I finally got the chance to see nemo!!! he is just DAMN cute!!!!!!!!!!!!!!! felt like playing with it right away, just like how you would see a newborn baby...see how it looks like, its eyes not open yet, wonder how many days will a new born puppy's eyes be closed? It's my first time seeing a newborn puppy, just a few days' old, its feet, paws & nose all so pink, so 'new' haha :) its mouth also very cute, when it yawns you can see its pink tongue and still no teeth, so cute! hai...wish I can adopt nemo as my very own, but a pity I won't be around to be its mummy :( hope nemo will find a good owner in the future, someone who will love him with their heart & soul!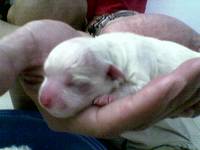 Dinner was spent at sakae sushi! yummy...damn shiok man. Met up with jack & may after such a long time. It's nice when you eat there with other people who also love japanese cos they'll tend to order their favourites and we will order our favourites...and thus, a spread of yummy items we will not usually order for just the two of us! More people=More FOOD! hahhahah very enjoyable dinner, we chat and chat, ate & drank 0-cha...damn shiok...did i repeat shiok again? hahha :) my favourites at sakae sushi:

Soft shell crab temaki
fried maki
tempura moriwase
chawanmushi
shishamo
any sushi with fried soft shell crab
any sushi with fried prawn
sashimi
agedashi tofu
these are some of the compulsory items that I MUST order when I eat japanese! heheheh :) of course if I can still eat, I will order more side items! :) (sluuuurp) we ended up paying close to $100 for the 4 of us! ahhha, so far this is the most I've paid for sakae sushi!
Friday
Was a pretty lazy day, spent watching tv and surfing the net for the late morning and early afternoon...went out to northpoint in the afternoon to run some errands. Went to a travel agency to apply for a visa to china, yeah will be going to shanghai end of this month with my parents & darling! :) never thought I would go to china again so soon, went there 2 years ago when the circus was there! yipee! went to popular to buy a name card holder for yokonuza, he complained he got too many name cards lying around in the room... i also got a nokia 3120 for myself, sold the 6150 as it was 'kookoo' already...it will just off by itself sometimes...better sell it before it's too late! Now I am comtemplating on selling my ericsson phone, it's nice to use for normal, day-to-day usage but when I sms too fast, the phone will just hang...don't think this phone is suitable for business usage too as I'm very dependable on the calendar function in nokia phones. As i'm terribly forgetful, I need a nokia phone to make use of the calendar function to remind me of stuffs & appointments! the ericsson's calendar function is not very user-friendly :( although i've gotten used to the phone's other functions, guess i'll have to sell it off soon...will check out the resale price in JB, see if the price offered is higher over there...
For dinner, i met up with sy, wen and liyen at cwp! we ate at cavana, ordered so many things to eat...we had honey chicken cutlet, seafood combo, chicken curry with bread loaf, red roast, breaded prawns,wah.... but I felt the quality of the food there isn't that good anymore...last time when we went there, the food tasted much better and the quantity was also much more...now not so good...disappointing! now we might change our favourite makan place to somewhere else...haunt haunt...just hate it when a restaurant first opens, everything is so nice there, the food, ambience...and after some time, it just loses its 'quality', sad right? what to do.. anyway, we had a good time chit-chatting and catching up on the past week's happenings :)